MIAMI - Miami Heat players, coaches, and employees fed hundreds of families during the 21st Annual Heat Thanksgiving Celebration at the Miami Rescue Mission.
"The Miami Heat consistently -- they show the community how much they care for them," said Dwyane Wade. "The community do so much for us and support us so much, it's the least we can do."
The team left the practice court Tuesday afternoon and went straight to the Miami Rescue Mission, where they distributed 600 turkeys and served lunch.
"We've been fortunate enough to be able to help out the South Florida community now for 21 years we've been hosting our Thanksgiving celebration," said Ralph Leon, who works for the Heat.
"Oh, this is fantastic and today's my birthday, so, you know, this is my gift," said Ana Willes.
"This is in our back yard, right down the street from us. To be able to spend time with all of our fans and our community on such a special holiday -- we love it," said head coach Erik Spoelstra.
Olga Gomez was one of the first in line. She arrived at 5 a.m. to get her turkey and meet the players.
"Cause I want to meet them in person," said Gomez.
"As everyone knows, it's been hard now so this helps out a lot," said Linda Paisley.
"Thanksgiving is about being thankful for the ones that you have," said LeBron James.
But the food makes it satisfying, and the players plan on chowing down.
"We will be eating. So weight and body fat, that is out the door on Friday." said James. "My favorite Thanksgiving dish has to be macaroni and cheese and candied yams. I have to have that on my plate for Thanksgiving."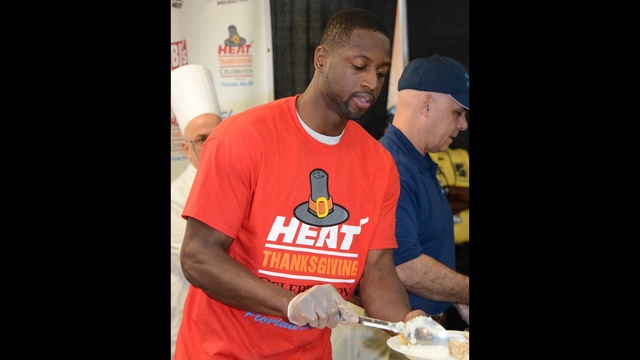 Copyright 2012 by Post Newsweek. All rights reserved. This material may not be published, broadcast, rewritten or redistributed.