MIAMI BEACH, Fla. -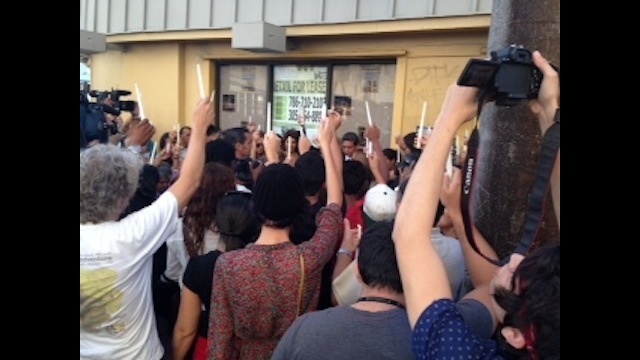 A vigil was held Thursday night for an 18-year-old man who died after he was tasered by a Miami Beach police officer.
The vigil for Israel Hernandez-Llach was held at Collins Avenue and 71st Street.
"I just think he's still here because I used to hang out with him every day," said Raphael Lynch, a friend of Hernandez-Llach.
Police said Hernandez-Llach ran away from them when he was caught spraying graffiti on a building at 71st Street and Collins Avenue early Tuesday morning.
Officers told Hernandez-Llach to stop running and when he did not comply, he was tasered, according to a police report. Soon after, he began showing signs of medical distress.
Hernandez-Llach was pronounced dead at Mount Sinai Hospital a short time later. An autopsy report is still pending, but his family said he didn't have any health conditions that could be blamed for his sudden death.
The Miami Beach Police Department issued a statement, saying in part: "This incident is an open and ongoing investigation. The City of Miami Beach would like to extend their condolences to the family of Israel Hernandez."
"We don't want an investigation of the police department conducted by the police department," said Jose Javier Rodriguez, an attorney representing the Hernandez family. "We don't know exactly what happened. We don't know if protocols were followed. There's a lot of unanswered questions."
Rodriguez said he hadn't seen evidence showing him what happened leading up to Hernandez-Llach's death.
"All we know is that an unarmed teenager named Israel Hernandez-Llach died and the family would like to know why," he said.
"This is the latest in a long, tragic series of incidents in which the Miami Beach Police Department appears to have used excessive, disproportionate or lethal force. Unfortunately, the Miami Beach Police also have a troubling track record of a lack of transparency after such incidents," the American Civil Liberties Union of Florida said in a statement. "There must be a timely, independent and thorough investigation into what happened Tuesday morning, whether officers followed policies authorizing the use of Tasers, and whether that policy needs to be reviewed."
Copyright 2013 by Local10.com. All rights reserved. This material may not be published, broadcast, rewritten or redistributed.