Discussion
At 1100 a.m. AST (1500 UTC), the center of Hurricane Humberto was located and air force reserve hurricane hunter aircraft near latitude 32.2 north, longitude 68.1 west. Humberto is now moving toward the east-northeast near 16 mph (26 km/h). This general motion with an additional increase in forward speed is expected through early Thursday, followed by a northeastward to north- northeastward motion through Friday. On the forecast track, the core of Humberto is expected to pass just to the northwest and north of Bermuda later tonight.
Reports from the reconnaissance aircraft indicate that maximum sustained winds have increased to near 120 mph (195 km/h) with higher gusts. Humberto is a category 3 hurricane on the saffir- simpson hurricane wind scale. Some fluctuations in intensity are likely during the next day or so, but Humberto should remain a powerful hurricane through early Thursday while it passes close to Bermuda. A steady weakening trend should begin later on Thursday.
Humberto is a large hurricane and continues to grow in size. Hurricane-force winds now extend outward up to 105 miles (165 km) from the center and tropical-storm-force winds extend outward up to 195 miles (315 km) based on reports from the hurricane hunter aircraft.
The minimum central pressure recently measured by the reconnaissance aircraft was 952 mb (28.12 inches).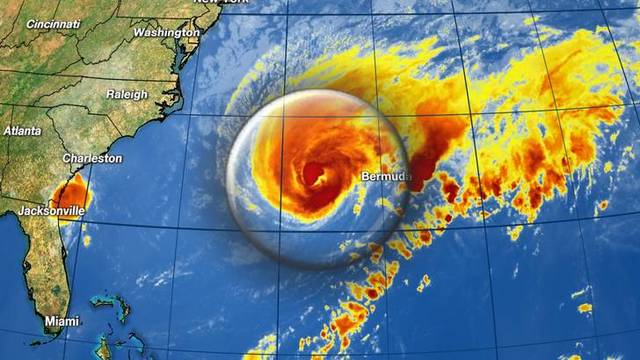 Watches and Warnings
Changes with this advisory:
None.
Summary of watches and warnings in effect:
A hurricane warning is in effect for, * Bermuda
For storm information specific to your area, please monitor products issued by your national meteorological service.
Land Hazards
Wind: hurricane conditions are expected to reach Bermuda this evening and continue into early Thursday morning. Winds are expected to reach tropical-storm strength later this afternoon, making outside preparations difficult or dangerous. Preparations to protect life and property should be rushed to completion.
Rainfall: Humberto may bring periods of heavy rain to Bermuda through Thursday, with rainfall accumulations of 2 to 4 inches with maximum amounts of 6 inches expected.
Surf: large swells generated by Humberto will increase along the coast of Bermuda today. Dangerous breaking waves, especially along south-facing beaches, will be possible Wednesday night into Thursday, and could cause coastal flooding. Wave heights exceeding 30 feet have already been reported by an offshore noaa buoy.
Swells will continue to affect the northwestern Bahamas and the southeastern coast of the United States from east-central Florida to North Carolina during the next couple of days.
These swells could cause life-threatening surf and rip current conditions. Please consult products from your local weather office and the Bermuda weather service.
Storm surge: storm surge and breaking waves could raise water levels by 1 to 3 feet above normal tide levels along the immediate southern coast of Bermuda.