PARKLAND, Fla. – High atop a mountain in northern Chile, Brandon Kyle Jeter shriveled in the frigid air. At a high altitude of about 7,200 feet above sea level, he said he had never felt so small. Far away from light pollution and clouds, the striking starry night was overwhelming. 
Professional astronomers chose the location, tucked between the Pacific Ocean to the west and the Andes Mountains to the east, to build the Cerro Tololo Inter-American Observatory, known as a window to the universe since 1965.
The trip was a dream come true for Jeter, an engineering physics Murray State University grad who is a veteran science teacher at Marjory Stoneman Douglas High School, where the Valentine's Day massacre left 17 dead. He is known for developing the area's first honors-level astronomy class. 
"Just seeing the sky, and seeing the Milky Way stretch overhead from horizon to horizon, is just something you don't get to see very often -- if ever," Jeter, 47, said.
Jeter, the 2017 Broward County Public Schools' Teacher of the Year, said he is eager to return to the classroom on Wednesday. He wants to help nurture the dreams of his 235 honors students by sharing the details of his Chilean star-gazing experience starting on the first day of school, Aug. 15.
"They will probably get sick of hearing about it. To me it's just all inspiring. It's like knowing that we have this infinite challenge ahead of us to learn about the universe," Jeter said. "Our galaxy alone has a couple of hundred billion stars alone. We don't understand dark matter. We don't understand why the universe is expanding at an accelerating rate." 
The National Science Foundation sponsored Jeter's participation in the Astronomy in Chile Educator Ambassadors Program. He said he was on a Facebook group for astronomers when someone shared a link about the opportunity. He didn't think he had a chance, but he applied anyway. He said a dream came true when he was chosen. 
Jeter and the other program participants traveled to the high-and-dry Atacama, one of the few locations in the world with clear skies all year long.  Jeter visited the Atacama Large Millimeter Array, or ALMA, an observatory with a radio telescope and 66 giant high-precision antennas. 
There were challenging walks about 16,500 feet above sea level that forced Jeter to gulp oxygen from a tank on his back.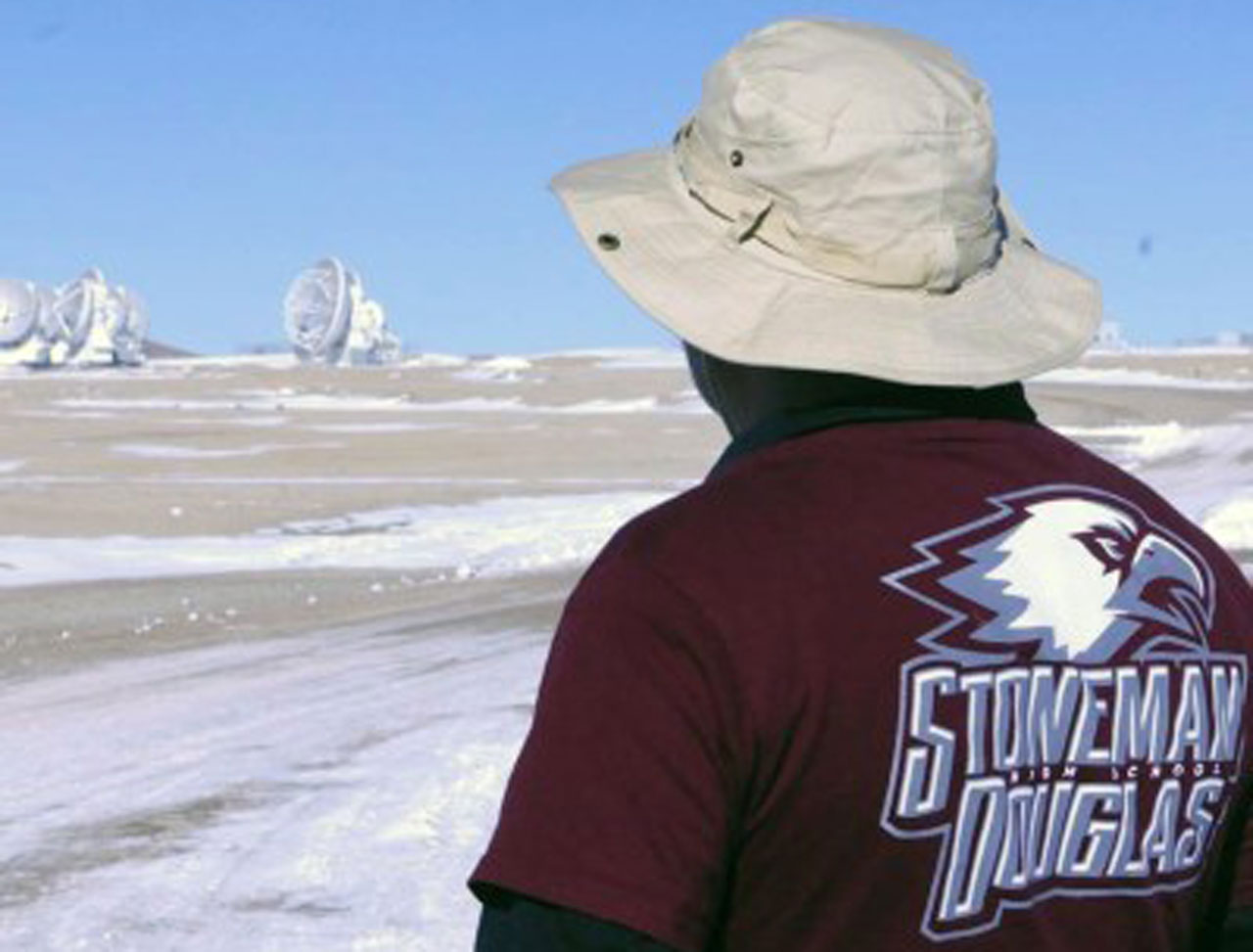 A team of astronomers from the United States, Europe and Japan works there. Jeter said he was surprised to see so many engineers at work; there were electrical engineers, mechanical engineers and computer engineers. 
By the year 2022, about 70 percent of the world's astronomy infrastructure will be located in Chile, according to NSF. The U.S. Department of Energy is helping NSF on two $1.5 billion telescopes. Jeter wants to teach his students about new employment opportunities.
"The technology there is absolutely amazing. I think that people envision astronomers going to work and looking into a telescope all of the time, but now all of the data and the images go straight into a computer," Jeter said. "It's all incredibly advanced. There are multiple telescopes and multiple dishes. They have a supercomputer on the mountaintop. It's mind boggling." 
Every year, Jeter takes his students to look at the stars at the Florida Everglades. This year will be the first time his students will have a permanent telescope on campus. It will be at the Marjory's Garden, which also provides vegetables for the culinary program. Jeter is also looking forward to using the telescope to teach his students more about astral photography.