FORT LAUDERDALE, Fla. –
Police arrested a 39-year-old man accused of plotting to kill his wife, her mother, and her brother.
The Broward Sheriff's Office arrested Jason Simione on Monday. He was charged with three counts of solicitation to commit murder, possession of a destructive device, and child abuse.
According to BSO, Simione offered acquaintances $150,000 to kill his wife and the two others. During a hearing Tuesday, Broward Circuit Court Judge John Hurley said he also plotted against his son.
Inside his Dania Beach home, deputies found 68 rifles -- including a .50-caliber sniper rifle -- shotguns and handguns, and 60,000 to 70,000 rounds of ammunition. Simione legally owned all of the guns, BSO said.
"Every single firearm you see here was loaded with a magazine and a magazine filled to capacity, so any weapon that was actually picked up at any time would fire immediately as soon as you pulled the trigger," said BSO Det. Ricky Libman.
Simione is the chief executive officer of Bulldog Tactical Equipment, a Fort Lauderdale-based company that designs and manufactures custom gear for the U.S. military.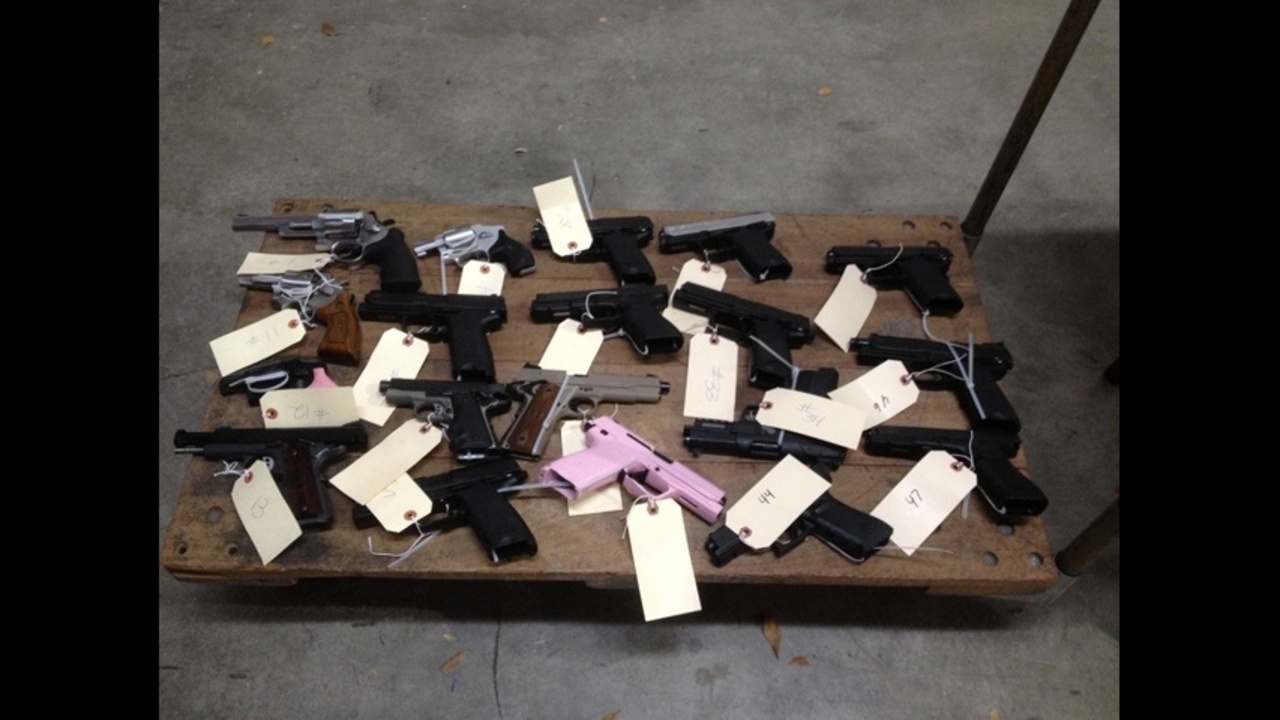 Deputies also found the components of a pipe bomb, but it wasn't assembled, officials said.
"You look around, you look at the weapons, you look at the ammunition, you look at our present-day society and you can't help but think that we might have averted a disaster," said Broward Sheriff Scott Israel.
Libman said the walls of Simione's home were refortified and its windows were barred.
"It would be a nightmarish tactical assault if anybody actually had to go in there," he said.
"One of your employees said that they have helped install certain materials at your residence in Dania Beach to reinforce the residence to prevent breaches by law enforcement and 'kill zones' have been set up in case the SWAT teams try to make entry," said Hurley. "Allegedly you said, 'When this is done and this explodes, it will f everyone up.'"
Simione's wife contacted BSO on Friday and said her husband was prone to violent outbursts since he began injecting himself. Employees said he used steroids, according to Hurley.
His wife told BSO that Simione threw a 9-month-old baby onto a table while arguing with an employee. The baby suffered a cut and bruised face.
Simione appeared hostile and paranoid while stockpiling the weapons, bomb-making materials, and ammunition, said BSO. He also spoke against the president and U.S. government.
Hurley set his bond at $5 million.
On July 10, Simione wrote on his Facebook page that his wife wanted a divorce.
BSO said his wife filed a restraining order against Simione, claiming domestic violence against her and their son.