MIAMI-DADE COUNTY, Fla. – Miami-Dade County is closing inside dining at restaurants as a result of the spike in COVID-19 cases.
But Mayor Carlos Gimenez has changed his mind on gyms and fitness studios, tweeting Tuesday that they can stay open as long as everyone working out inside wears a mask.
I had a very productive virtual meeting just now with our medical experts and the County's Wellness Group. We arrived at a compromise to keep gyms & fitness studios open. All doing activities inside must wear a mask or do strenuous training outside staying 10 feet apart w/outmask

— Mayor Carlos A. Gimenez (@MayorGimenez) July 7, 2020
Gimenez's new order to close restaurants except for outdoor dining, takeout and delivery is effective Wednesday and follows the 10 p.m. curfew and closure of many entertainment venues, which were announced Thursday. He had initially said that gyms would have to close as part of the order.
The mayor had previously updated his plan Monday night to say that outdoor dining will be allowed "with restrictions that include tables of no more than four patrons, appropriate distancing, and music played at a level that does not require shouting, to prevent the emission of potentially dangerous airborne droplets."
The county's beaches reopened Tuesday after being closed for the holiday weekend, but Gimenez said they could be forced to close again if people are seen gathering in large crowds or not following safety rules.
"We want to ensure that our hospitals continue to have the staffing necessary to save lives," Gimenez said in explaining the closures.
A group of Miami-Dade officials and business owners held a news conference Tuesday to push back against Gimenez's COVID-19 closures. (Watch a replay below.)
Miami-Dade County reported a record 2,418 new cases of COVID-19 on Saturday as the state set a new high with 11,458 new cases in a day.
Miami-Dade County confirmed 1,981 new cases Monday and eight resident deaths as a result of COVID-19. The county has the most cases (48,992) and deaths (1,051) in Florida.
Leaders had warned over recent days that following safety guidelines to stop the spread — including wearing the mandatory face coverings in public — would be critical to keeping businesses open.
Miami Beach Mayor Dan Gelber has said that hospital capacity is most critical to watch and that if space grows thinner, that's when we could see another full stay-at-home order like earlier in the outbreak. Hospital leaders have been watching dwindling bed and ICU capacity.
Just a short time after learning on-site dining will once again close, Mateo Panderni of Sapore di Mare in Miami was developing a strategy to stay afloat, adding a mini-market offering fresh dishes and bottles of wine to go.
"This is the price we pay. It is the right decision but bad news for all my employees," Panderni said, adding that he hopes people now get the message of how important it is to wear masks. "I hope now that we are learning from our mistakes."
Gimenez said that at this time the county will keep outdoor activities open, including condo and hotel pools, summer camps and daycare centers.
Retail stores and grooming services also may remain open for the time being.
"We can tamp down the spread if everyone follows the rules, wears masks and stays at least six feet apart from others," the mayor wrote to county residents. "I am counting on you, our 2.8 million residents, to stop the spread so that we can get back to opening our economy."
(Gimenez's full announcement can be seen here.)
City of Miami Mayor Francis Suarez said Monday that more data and guidance is needed at this critical time, both from state health officials and the Centers for Disease Control.
"It's not just about this specific action, but where do we go from here and what is the justification for it?" Suarez said. "And what is the long-term plan?"
In Broward County, mayors met Monday and could further discuss similar measures.
Broward's beaches reopened Monday to the delight of many beachgoers in Fort Lauderdale. But business owners by the coast took a hit over the July 4 holiday weekend and there are concerns about further closures.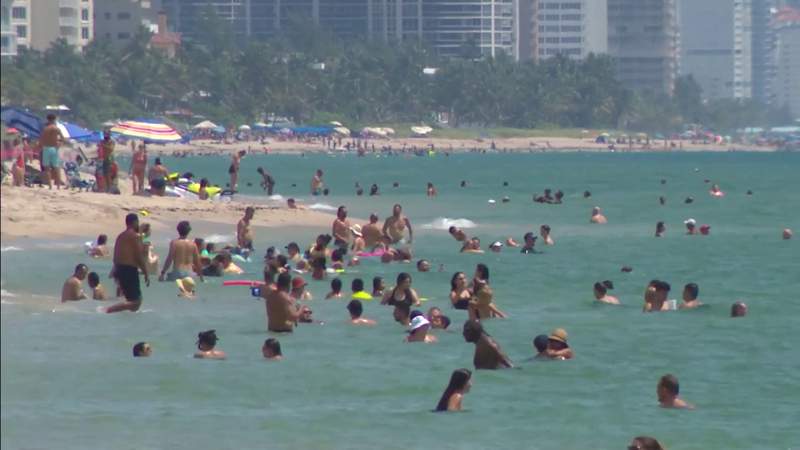 Local 10 reporter Andrew Perez contributed to this report.