HIALEAH, Fla. - A man who fled from the scene after crashing into four vehicles was arrested Tuesday afternoon, according to Hialeah police.
An on-duty Hialeah patrol officer spotted Mandy Pena driving a stolen black 2000 Ford Focus at 7 a.m. Tuesday in the area of East Sixth Avenue and East Ninth Street.
The officer attempted a traffic stop when Pena continued driving and crashed into four vehicles at the intersection of LeJeune Road and East Ninth Street, police said.
A 33-year-old woman who was a passenger in Pena's car was seriously injured during the crash and taken to Jackson Memorial Hospital. Police said she is not being charged with a crime as this time.
Pena was also injured during the crash, but managed to flee the scene on foot, leaving his injured passenger behind. No one else was injured in the crash, authorities said.
According to the arrest affidavit, Pena had a suspended Florida driver's license at the time.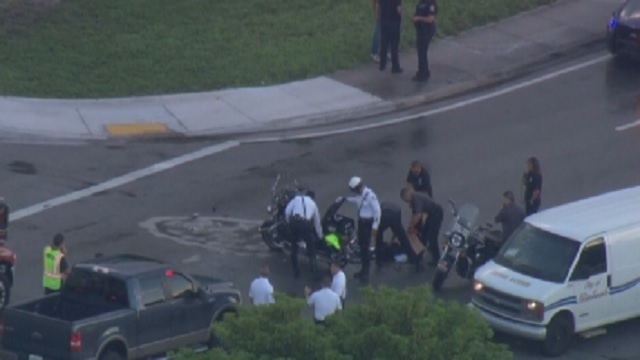 As police searched for Pena, a motorcycle officer who was on his way to assist with the crash scene was injured in a separate crash, Hialeah police Sgt. Eddy Rodriguez said. The officer was taken to Jackson Memorial Hospital.
Pena ran to a nearby residential area in an attempt to hide from police. Police said a perimeter was set up to locate him.
During the search Pena forcibly entered a home at 605 East Ninth Court, where he battered an elderly woman while her son tried to pull him off of her, according to Hialeah police.
Authorities said Pena then fled to the backyard of another nearby home, where he hid inside a trash can. After refusing to surrender and again attempting to flee, he was apprehended by a Hialeah police K-9, police said.
Pena was arrested and taken to Jackson Memorial Hospital to be treated for dog bites and for injuries received during the car crash. Hialeah police said Pena has a criminal history that includes narcotics possession, robbery and grand theft.
Copyright 2014 by Local10.com. All rights reserved. This material may not be published, broadcast, rewritten or redistributed.