MIAMI - A retired Broward Sheriff's Office deputy who was shot in the head during a traffic stop in 2007 bonded out of jail after he was charged with trying to strangle his wife.
Former BSO Sgt. Maury Hernandez is accused of trying to strangle his wife, a Miami-Dade Police officer. He was charged with felony battery by strangulation.
A judge allowed Hernandez, 33, to leave jail on $2,500 bail Monday. He was ordered to stay away from his wife but can visit their 15-month-old boy once a week at his parents' house.
Hernandez was released from jail about noon. He covered his head with a black jacket and left with his family and an attorney.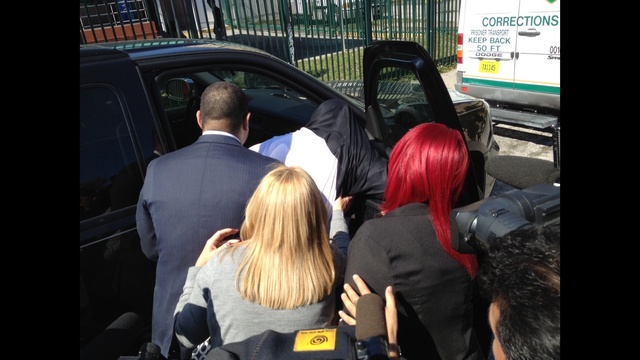 According to the arrest report, Hernandez and his wife of three months were involved in an argument Saturday about where to leave their son during an upcoming Valentine's Day trip. The couple has lived together for two years and has a child together.
After the three went for a drive in an attempt to diffuse the situation, they arrived back home and Hernandez's wife tried taking her son out of the back seat of their car, say police. Hernandez then shoved his wife several times and grabbed her by the neck.
Police say Hernandez's wife had bruises and scratches on her neck.
"Basically, at this point, this matter is extremely private. We want to keep it between the family, between us as a unit, and we're going to take it step by step, one day at a time, and from the beginning, my number one priority and only priority was my baby boy," Hernandez told Local 10's Roger Lohse.
Hernandez's remarkable recovery
Hernandez was shot in the head during a traffic stop in 2007. The injury forced him to retire from the Broward Sheriff's Office.
He invited Local 10 to document his remarkable recovery from the head wound.
In Jan. 2012, Hernandez and his family were dining at an ice cream shop when a beggar became violent, say police. He then shot the man.
"At that point, I was thinking of nothing else but to defend my family and my baby," Hernandez told Local 10 at the time.
The retired deputy fired several shots and hit the man in self-defense, according to authorities. Hernandez was never charged with a crime.
Copyright 2013 by Local10.com. All rights reserved. This material may not be published, broadcast, rewritten or redistributed.